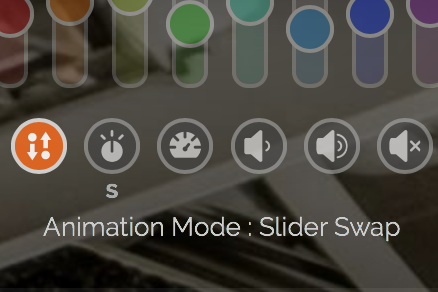 April 26th • Thanks for the support. I noticed a light increase in donations since my last blog entry! Today, I would like to introduce the changes that happened on the website lately. Cosmetic changes – did you notice? - and the new functionalities, such as generator suggestions on every generator page, and new (slider) animation schemes. I received a lot of feedback regarding the lack of control over the animation feature. So far, only animation speed could be modified. People kept asking me if it was possible to add minimum and maximum positions for each slider, for example. That idea was nice, but I was afraid it would clutter the sober user interface. So, I postponed the implementation of that feature until I could find a satisfactory solution. That happened three days ago. I first switched from textual to graphical buttons below the player, to save some space, then I added one more control - Animation Mode - under a button that looks like a little rotary switch. Along with the Animation Speed button, they offer control over the slider animation feature. When Animation is turned off, both Mode and Speed buttons are still active - that is, your can still change their values - but you won't hear their effect until Animation is turned on. When their effect is inaudible, Mode and Speed buttons are circled by dots instead of a plain line. If you try to modify them, Animation will turn on automatically.

Animation speed is self-explanatory : it offer a wide range, from 4x slower to 4x faster than the default speed.

Clicking the Animation Mode button will take you through 7 different algorithms.

By Default, the slider animation is constrained by a percentage of the slider height, namely 50% to 125% of its value. So, if a slider is at zero, it stays there (50% of zero, is still zero, and so is 125% of zero). This means you can easily mute sliders and force them to keep muted during animation. Non zeroed sliders will move anywhere between 0.5 (50%) and 1.25x (125%) from their value set before animation started. That is the default mode. The two next modes are Subtle and Deep that works exactly the same, but with different ranges. Subtle is 80-110% and Deep is 0-150% of the slider value. The Deep setting is what the original animation used to be be...

Next mode is Minimax. There you can set the minimum and maximum levels for the sliders. Min and Max are global values. You cannot set individual values for each slider. It's a compromise that allows to keep a clean user interface. Min and Max are simply taken from the sliders positions, where min is read from the lowest slider, and max, the highest. Zeroed sliders are excluded from the set, so zeroed sliders will keep muted, and zero will not be taken as the minimum value for the other sliders.

Keep clicking the Mode button and you will arrive to the Extreme setting. That one is like a random toggle. Either a slider plays at its full initial value (100%) or muted (0%). As it closely mimics the 'Meditation Room' feature that was available for Patrons, that 'Meditation Room' features has been removed now.

Next comes the Shuffle mode. That one is really powerful and versatile. The idea is simple: during animation, each slider can take another slider's initial value. That won't work when all sliders are set to the same value before starting animation; however, if you turn one single slider to zero from there, each other slider will then have a 1/10th probability to get zero on the next animation snapshot. If two sliders are turned to zero, then, that chance increases to 20% (=2/10). Of course, you are not limited to muting sliders, any value will work and produce interesting results. To best understand how it works, start with a flat slider setting, with a couple of sliders set to different positions. Unlike the other modes, zeroed sliders are part of the equation this time, and can have their value set to other slider values. If you want to keep zeroed sliders muted, select the next animation mode, called... Shuffle, zeroed excluded.

That's it. It's simple yet complicated at the same time. And it's a huge imporvement over the original animation feature.

PS. Slider positions that serve as a reference for the animation process are grabbed when animation is turned on. So, when you switch animation modes while animation is running, the new animation mode will still refer to these reference positions grabbed earlier, not the current animated slider positions when mode has been switched.