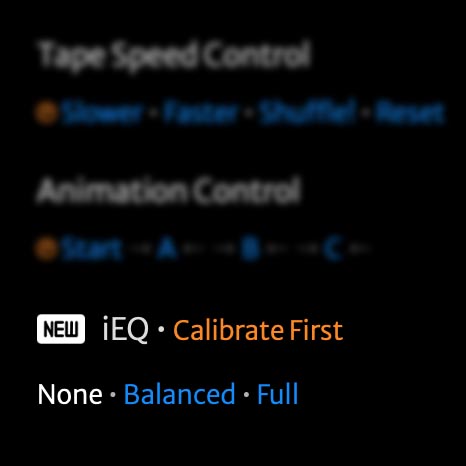 March 10th • This is a big update! Now, every sound generator on myNoise - the website version of myNoise should I specify - is able to compensate for your headphones or speaker's deficiencies, and even your hearing! E-v-e-r-y &nbsp s-o-u-n-d!
When myNoise started, calibration had to be performed off-line, and pre-rendered in the sound generator's audio files. This is why it only worked with the so-called calibrated generators, a subset of generators whose spectrum was compatible with that pre-rendering process. Thanks to the recent advances made in modern browsers, it is now possible to move that feature from server side, to the client side - your browser - and make it work on all myNoise sound generators.
For calibration to work, your browser needs first to measure the frequency response of your headphones and your hearing. The sound reaching your brain is a combination of your headphones frequency response and the frequency response of your ears, in series. This is why myNoise compensates for both, simultaneously. Calibration data is acquired on the calibration page. This page is where the engineering magic happens. By carefully following the instructions, you will provide your browser all it needs to compensate for unbalanced frequencies.
You need to perform the calibration process only once, unless you are switching to a new pair of headphones. Then, on each generator page, you select one of the three options available under the iEQ section : 'balanced', 'full' and 'apply to sliders'. The last option is only available on calibrated generators, and implements to old way of calibrating a sound on myNoise.
If your hearing is perfect, but your headphones aren't, the 'full' option is the best. It then will fully compensate for your headphones deficiencies. If you are using good headphones, you won't hear much of a difference. If your headphones are poorly balanced, the result should be more neutral. Nature sounds will suddenly be revealed to you as they were originally captured.
If you own great headphones, but you are suffering from a hearing loss, the full option will probably sound too bright, though it exactly compensates for your hearing loss. Indeed, your brain is now used to deal with this loss. In other words, that loss is now part of what your brain considers to be the baseline, or the neutral sound if you want. Fully compensating for your hearing loss at this point will result in a change that your brain is not ready not accept. This is why the iEQ offers a more conservative setting, which I labelled 'balanced'.
Last but not least, the old calibration protocol reminiscent from the early days of myNoise, is still available when you are listening to a calibrated generator. In such a case, a third option will be listed under the iEQ section. 'Apply to Sliders' will embed the calibration curve to the sliders. With this last method, you don't force your CPU to perform the calibration on the fly. This is why the iEQ will be disabled, once you have decided to move the calibration process to the sliders.