Speaker Cushion (Relaxing and Sleeping)
To enjoy the myNoise audio quality to its full extent, good-sounding headphones are recommended, particularly when you are trying to block audible nuisances around you. Sometimes, wearing headphones is not convenient. Lying in your bed, trying to fall asleep with the help of your favorite sound, is one of these situations. Even if you managed to fall asleep, it is likely that either the cord of your earbuds or the pressure of your head against your headphones' earcups will wake you up as soon as you are moving in your sleep. People listening to myNoise in bed often rely on external speakers, diffusing the sound in the whole bedroom. This situation is not ideal when you are in a relationship and your partner doesn't agree with your sound selection.
To cope with this situation, you can try special headphones, those that are supposedly comfortable to sleep with. Or a pillow that internally hides a speaker. From time to time, people ask me if I could start manufacturing one of these, since the quality of those found online is often disappointing. No, I can't do that, but I've been looking for devices I would have been proud to develop in order to answer with a recommendation. Nice sleep headphones I haven't found yet, but a pillow, I just did. It's bluetooth, it has the comfort and quality that does justice to the myNoise sounds, and it is something I can endorse, though the price is relatively high. We are talking about USD 300 here.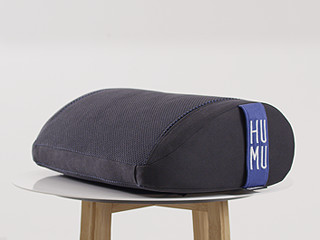 The HUMU is a cushion that connects to an external audio device either by bluetooth, or with an audio cable. As written above, it is comfortable, feels great and sounds nice. It doesn't sound as good as great headphones – it does not even sound like headphones – but offers an extremely nice listening experience: like a speaker but with the proximity of headphones. It offers a strange, unique but satisfying experience I can definitely recommend to people who are into relaxation and stress management. It's like being in a cozy bubble, yet without being disconnected from the external world like headphones. The HUMU integrates two speakers and offers a fully stereophonic experience. Try binaural recordings (or beats) to relax: they sound amazing on the HUMU. Last but not least, this cushion produces quality vibrations too. Yes, the HUMU vibrates. Vibrations allow you to feel the sound. Any low frequency sound will produce these vibrations naturally when played at loud levels. But this requires fairly large speakers - subwoofers best - and loud levels to experience. By vibrating, the HUMU recreates that same experience but at much quieter levels. These vibrations create an interesting illusion: lower frequencies are perceived lower and louder than they actually are, as the human brain associates these vibrations with low and loud sounds. What may be considered a gadget, actually helps extend the perceived frequency range towards the low end. When you know that the sensitivity of the human hearing drastically drops in the extremes frequencies as the sound becomes quieter, a speaker that produces physical vibrations makes sense.
If I had to build that device myself, I would have offered a vibration sensitivity control. I like to listen to the sounds on my HUMU at the quietest levels, and found that when the level is too low, vibrations simply disappear. Furthermore, though the HUMU offers the clearest highs for a cushion, the top frequencies - the last octave of our hearing range - could have been boosted, this again, to compensate for the drop of sensitivity of our ears at quieter levels. Fortunately, this is not much of a concern for myNoise users, since you can always tweak the myNoise sliders to either boost the low end (vibrations) or the higher frequencies. At regular levels, the HUMU sounds fine.
myNoise and the HUMU are a fantastic match. I enjoy the HUMU paired with my mobile phone, in bluetooth, while running myNoise for iOS. On the app, I can program a timer, e.g. 30 minutes, and fall asleep knowing that the sound will stop after a while, causing the HUMU to enter its sleep mode too (we both sleep then, yeah). This does save a lot of battery life, and allows me to use the HUMU over a whole week without a charge. The HUMU is rated for 8 hours of continuous use.
The HUMU is available to purchase on Humu website.