Open Headphones • My favorites!
I am lucky to be working in a quiet environment: my ideal headphones do not need to block external noises. Rather, I occasionally need to understand someone talking to me, without taking my headphones off my head. Open headphones are the best choice in this case. "Open" means the ear cups will offer almost no attenuation of external sounds; they'll just pass through. With open headphones, you will hear the surrounding sounds just as if you weren't wearing anything. They are more comfortable than closed headphones. They offer a flatter frequency response, and they are less fatiguing over long listening sessions. Naturally, you can't ask them to block external sounds efficiently. Still, you can use the masking effect of myNoise to achieve noise blocking, but you will need to set your headphone level higher than with closed headphones.
I've been trying different headphones for 30 years. For the last decade, I have set my mind – and ears – on the HD-600. If you are interested in listening to myNoise the way it has been designed, these are the ones to opt for.
Sennheiser HD 600 • They offer indisputable sound and build quality but cost around USD 400. That's a lot of money, but it is a wise investment. Quality headphones will become your best friends over the years – or decades when used with care – unlike the portable electronic equipment they are often connected to. They will also offer you a listening experience that no loudspeaker will ever be able to achieve for the same price. Treat yourself; your ears are worth it! With the HD 600 you listen to myNoise exactly as I intended it to sound.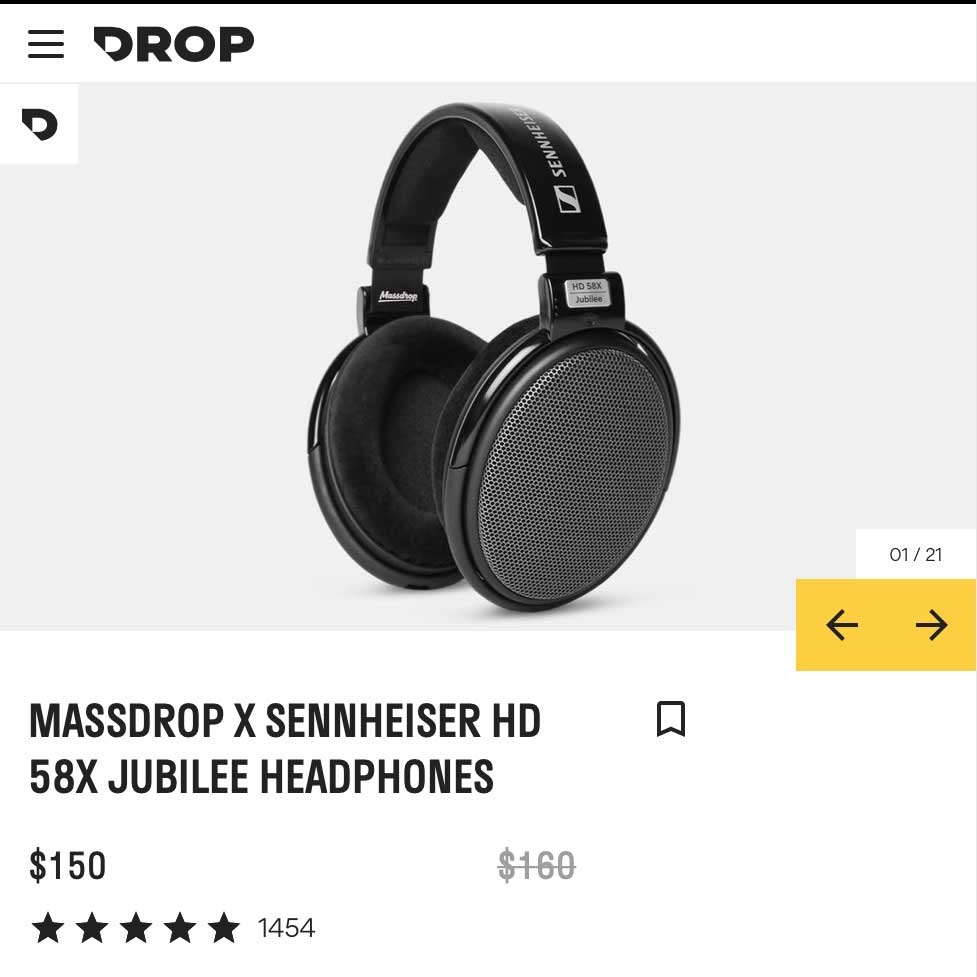 Recently, I've been introduced to variants of the HD 600, made by Sennheiser for wholesaler Drop. Drop is an internet business that buys large shipments directly from suppliers, and offers them at reduced prices. The Drop variants of the HD 600 are called the HD 58X and HD 6XX, and priced $170 and $220 respectively. So, how do they compare to my original HD 600? They sound as good, and look even better than the HD 600, if you want my true opinion. I've extensively tested the Drops variants before recommending these to you. You can read my full review .
The HD 599 is the consumer version of the HD 600, priced around $150. The HD 599 comes with the same premium sound quality as the HD 600, is lighter and more comfortable to wear. However, its overall construction feels cheaper, and the model is prone to cable noise: when the cable is touched, mechanical vibrations will reach the ear-cups and produce audible noise. This won't happen with the HD 600. For most users, the HD 599 will be a more reasonable choice. I highly recommend it.
The next ones are among my favorites too. They are cheaper, but do not feature a serviceable cord - an important feature for me.
Beyerdynamic DT-990 • They used to sell for around USD 400 originally, and are now available for less than USD 200. That's a deal! They are extremely comfortable and offer a very natural sound. Unfortunately, I break cables easily when moving around my desk, forgetting that I'm wearing headphones. That is the only reason I opted for the HD 600 in the end. If you are a careful person, a fixed cable shouldn't be a problem. The DT-990s are incredible performers, offering an unrivaled level of comfort. At USD 200, it's an easy decision. Select the 32 Ohm version if you intend to use them with your mobile phone or tablet.