The Player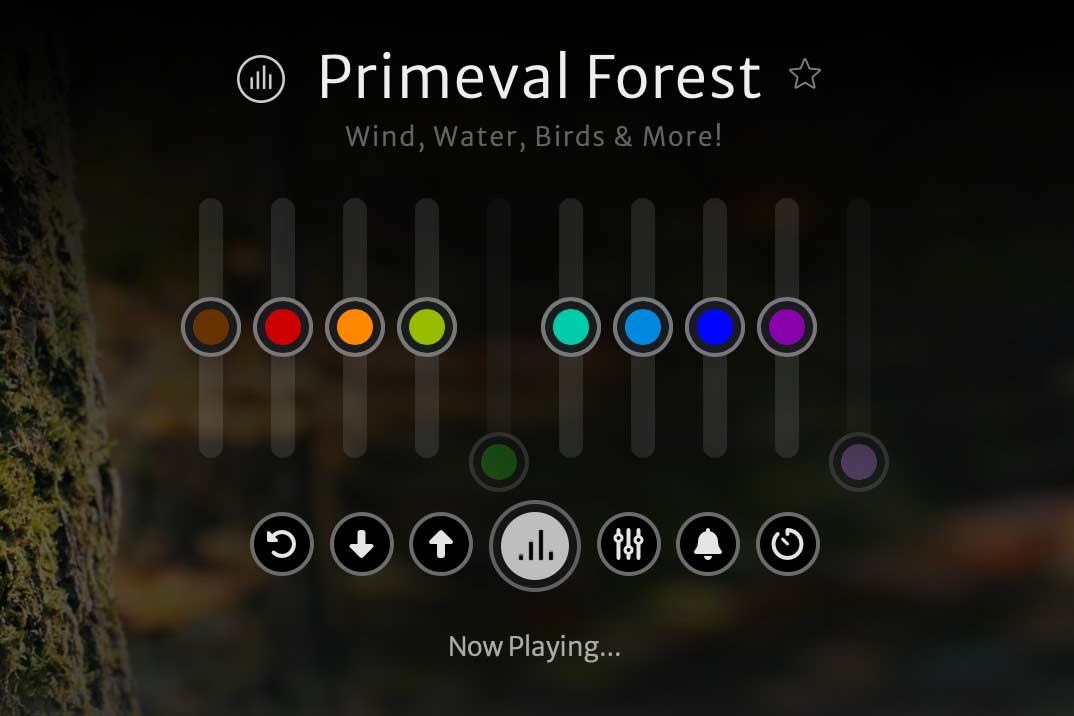 The Player consists of 10 colorized sliders, followed by a row of buttons. Sliders mimic a 10-band equalizer and are associated with strict frequencies when the generator is

calibrated. Each slider then represents one octave. When the generator is not calibrated, the sliders are still ordered by increasing frequencies... when it is possible. For example, the rumble of a distant thunder will likely be associated with the first slider, and chirping insects with the last one.

RESET • Sets all sliders back to their initial position. This position is horizontal for calibrated generators and outputs a strict pink spectrum.

ANIMATION • Creates an ever-changing atmosphere by animating all the sliders. Animation mode and speed can be changed using the next buttons.

ANIMATION MODE • Changes how slider animation occurs. By Default, sliders are only allowed to move within a range of from 50% up to 125% of their initial value. This means that sliders set to zero will stay there, allowing muted sliders to stay muted during animation. Subtle works with a 80-110% range and Deep with a range between 0-150%. Minimax uses a range derived from a minimum and maximum, where minimum corresponds to the level of the lowest slider, and maximum to the highest. Zeroed sliders are not taken into account when looking for the minimum, and will stay muted. Extreme behaves like a random toggle: either a slider plays at its initial level (100%) or will be muted (0%). Shuffle : during animation, each slider can take another slider's value. That mode is powerful and versatile but makes no sense when all sliders are set to the same value at start. At least one needs to be different. So, imagine that you start with 9 sliders up and one that is zeroed. Each slider now acquires a 1/10th probability of getting muted on the next animation snapshot. If two sliders are turned down to zero, then that chance increases to 20% (=2/10). You are not limited to muting sliders, any value will work and produce interesting results. Note that this mode won't keep zeroed sliders muted. If you want to do so, select the next animation mode, called Shuffle, zeroed excluded. The last mode is Sequential which reveals the zeroed sliders as a random sequence. To make the most of this mode, start with programming the sliders that you want to hear continuously, and set all others to zero. Once animation starts, you will keep hearing the continuous background ambience you have set, but with occasional sounds derived from the muted sliders. Independently from the mode, sliders can be excluded from the animation via your keyboard's numerical keys. Type the number associated with the sliders that you want to exclude from the animation.

ANIMATION SPEED • Sets how fast you want the sliders to animate.



VOLUME • Changes the overall playback level by raising or lowering all the sliders at once.

TIMER • Timer will make the sound fade out after a certain amount of time, if the generator is playing. This setting is ideal for sleep time. Or fade in, if the generator is muted. This setting can be used as an alarm, though you shouldn't rely on a browser to remind you about important things or wake up! Enter your custom time by clicking the numerical time display - it then becomes an entry field! For pomodoro sessions, see the special shortcut in the shortcut section below.

MEDITATION TIMER • Chimes at desired time intervals, without interrupting the main generator from playing. This feature is ideal to signal timings during a meditation session, or to remind yourself to be aware of the moment, randomly during the day (by default, at least once every hour). Enter your custom time by clicking the numerical time display - it then becomes an entry field! Random time intervals can be entered with two values separated by a question mark. For example, "5?15" will ring the meditation bell every 5 to 15 minutes, randomly. A dual bell setting is available as well, via the + sign. For example, "25+5" will alternate 25-minute and 5-minute sessions. The 25+5 setting is available as a shortcut, see below.