First Startup
The myNoise app uses the first startup as an opportunity to optimize itself for your device. This should not take more than 10 seconds on an iPhone 5. Once myNoise has performed its internal magic, you will be greeted with the main interface. Don't get too attached to this screen, you will only see it the first time you open the myNoise app after downloading it from the App Store.
My Noises
This is where you will find the noises saved on your iOS device. To hear one of your noise generators in action, just tap on it.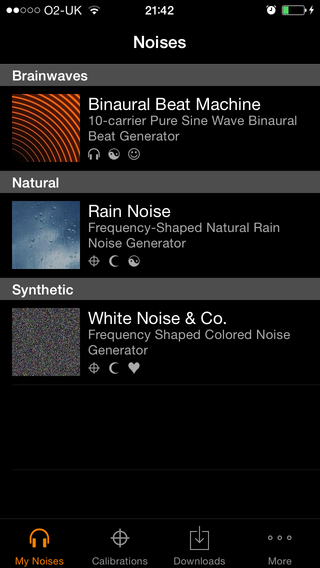 ←
The three most popular noise generators come free with the myNoise App : Binaural Beat Machine, Rain Noise, and White Noise & Co.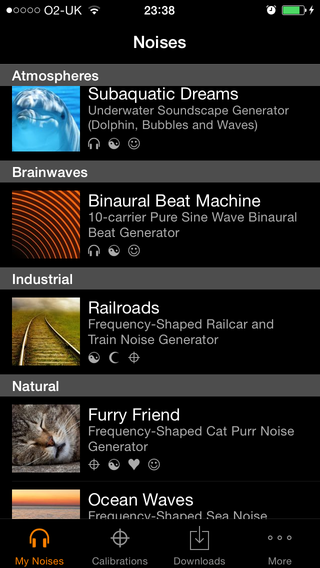 →
The "My Noises" screen will fill-up with any noise generator you install on your iOS device.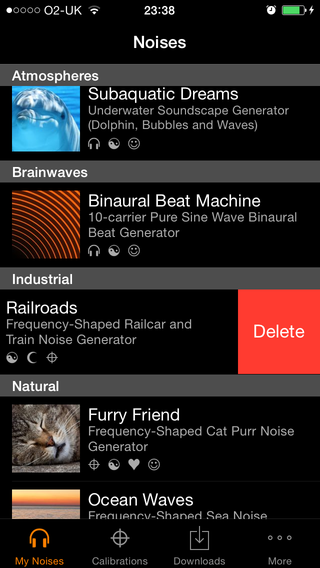 ←
You can remove a noise generator from your iOS device if you need more space. Just slide from right to left (Update: the last version requires a tap and holding your finger down, instead of a slide)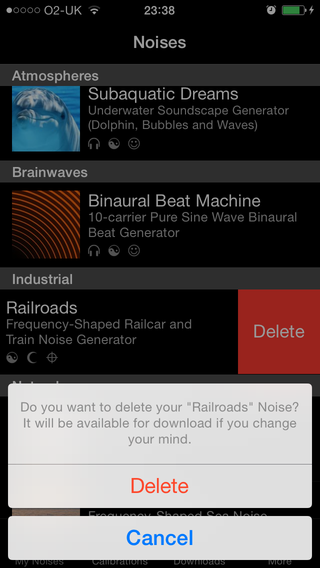 →
Do not worry, only the local copy of the noise generator will be deleted, you will still be able to download it at no cost, if you change your mind.
Noise Player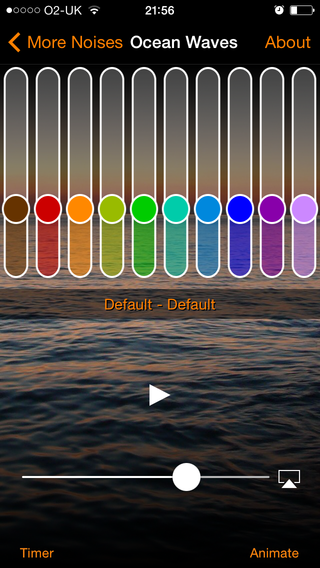 ←
Your noise generator fills-up the entire screen of the device, and contains, from top to bottom:

• The 10 familiar myNoise sliders available for you to create 'Your Noises'

• The current preset is highlighted underneath the equalizer

• Play / Pause button

• General volume slider, this controls the audio for the whole device

• Timer and Animate buttons


Gestures
Slide two fingers horizontally on the equalizer to change all sliders in unison.
Randomize your sound by (gently) shaking your iOS device.
Presets
Each noise generator comes with several presets, and you can of course add your own!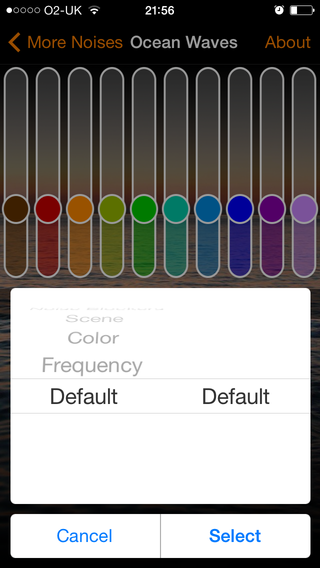 ←
Tap the name of the preset located under the equalizer to bring-up the preset picker. Choose the category on the left and the setting on the right. Notice how both generators and slider show a live preview of your choice? Once you are happy with your choice, press "Select" to get back to the main player, or "Cancel" to use the curve you were using previously.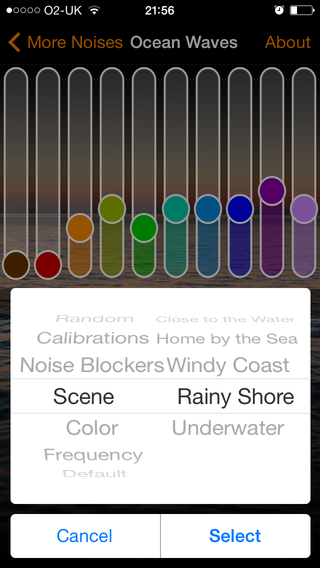 →
Choose the same ambiences and auditory scenes as those appearing on our website, and tweak them later!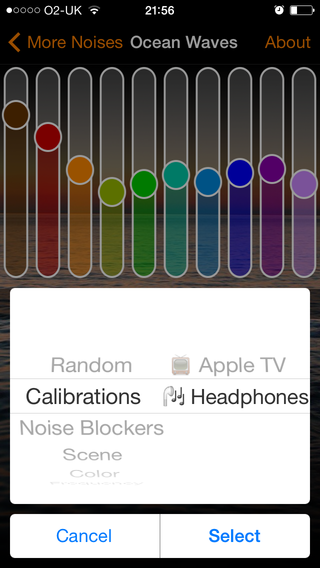 ←
Some generators are optimized for calibrated listening, others for noise blocking (and some for both). You will find your own noise blocking and calibrated listening curves in this section.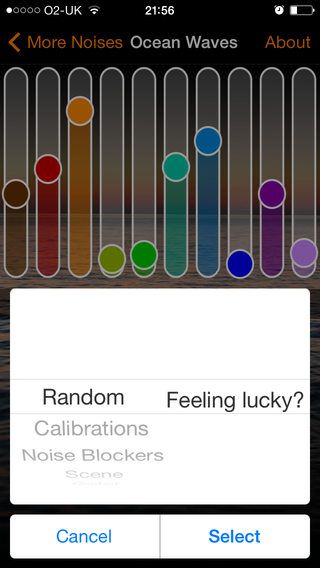 →
Are you feeling lucky? Just select this option, or slide it several times until you are happy with the (random) results.
Your personal noises!
The myNoise generators can be customized to suit your mood, current listening environment, or hearing profile.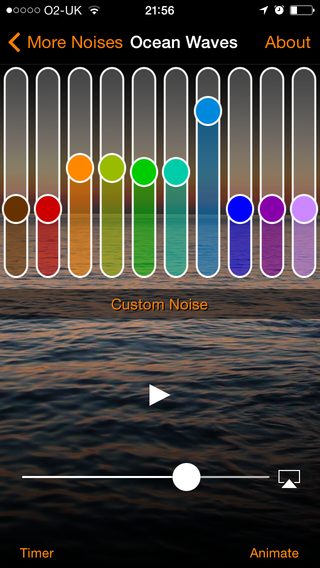 ←
Once you have adjusted the sliders to create a noise that you are happy with, touch the "Custom Noise" button under the sliders.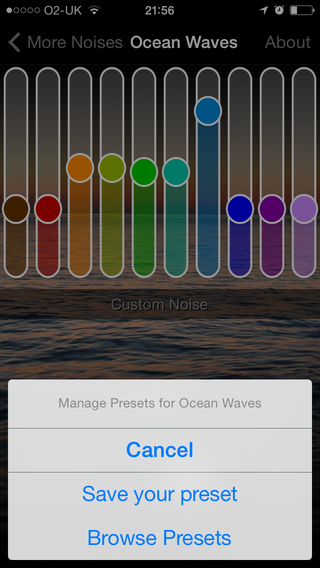 →
You will then have the opportunity to save it, or discard it and pick another existing preset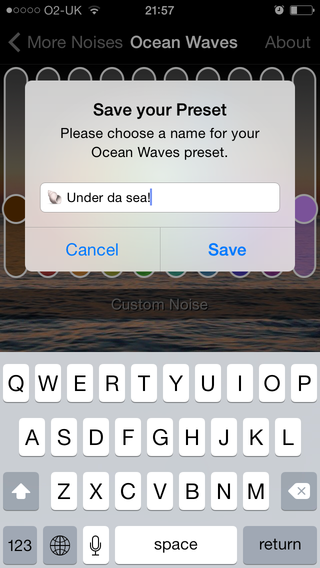 ←
Just pick a name for your personal curve.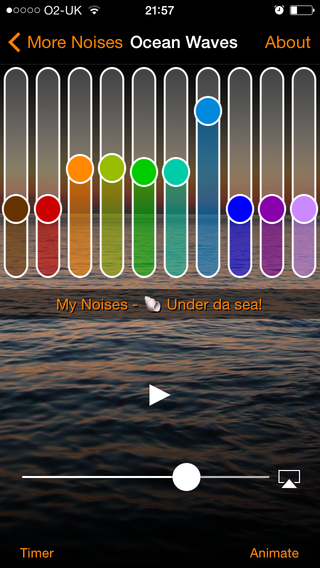 →
And now, you know why the app is called myNoise!
In control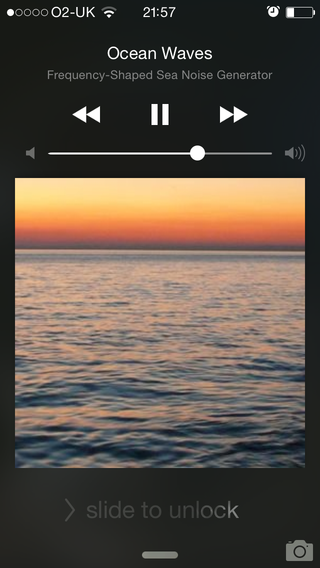 ←
You can control your noise generator even when your iOS device goes to sleep or you lock the screen: just press the play/pause button on the lock screen, or use your microphone remote control
Calibrated Listening and Sound Blockers
Calibration allows you to fine-tune our noises generators to your own hearing profile and audio equipment. If you are using several speakers, headphones or Airplay-compatible devices, you might want to create a calibration for each one of them. You will then be able to use these profiles with our calibration-aware Noise Generators.
Noise blockers let you define the profile of the noise you are trying to mask, and can be used with our Calibrated Noise Generators in order to achieve a higher camouflage efficiency.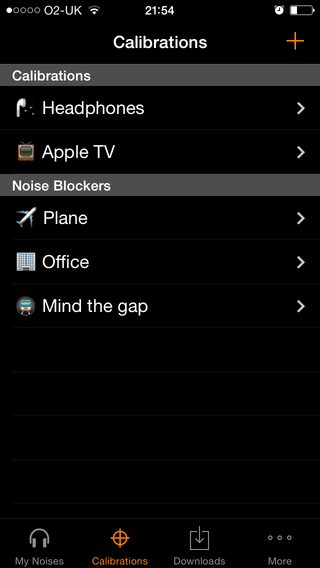 ←
The myNoise app lets you create the optimal listening experience tailored to your own hearing profile through Calibrations, or by blocking ambient sound using Noise Blockers.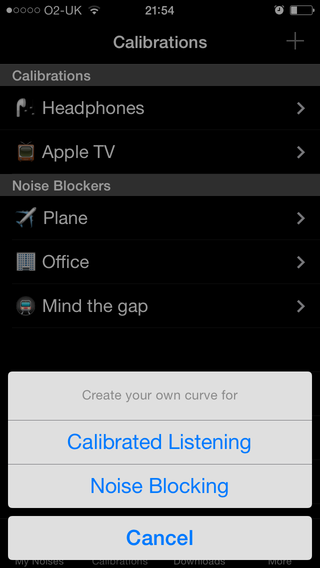 →
To create a new calibration, touch the + button in the upper-right, and choose between noise-blocking and calibrated listening. Then, ensure the volume of your iOS device volume is high-enough so that you are hearing the static noise used for calibration.
Calibrated Listening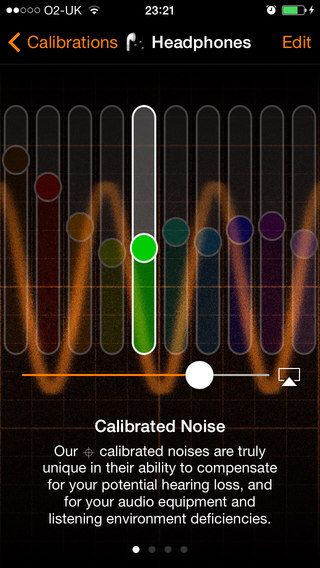 ←
Move each slider so that its associated sound becomes just audible to you, then move to the next one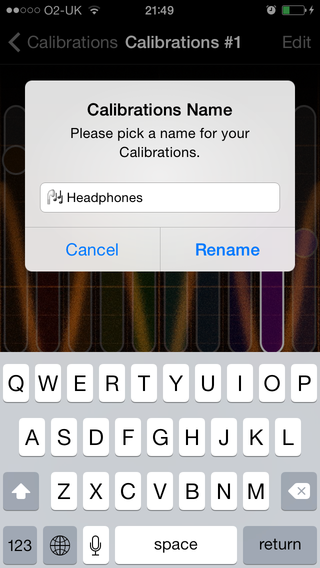 →
Once you are happy with the calibration, just press Edit and give a name to your calibration.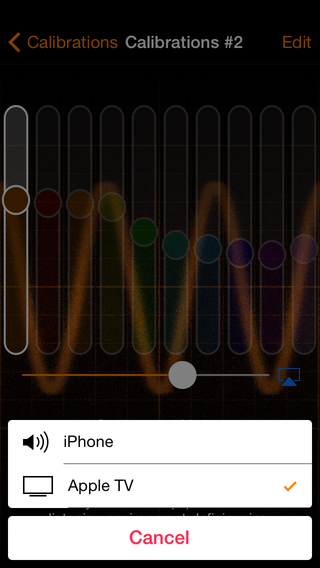 ←
You can even calibrate your AirPlay-compatible devices. Just hit the AirPlay icon and select the output source. Note that there can be a slight latency when streaming audio through airplay, depending on your network and devices.
Noise Blocking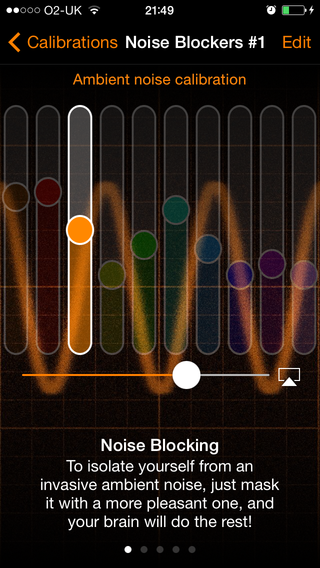 →
Move each slider so that its associated sound becomes just as loud as the nuisance you are trying to mask, then move to the next one.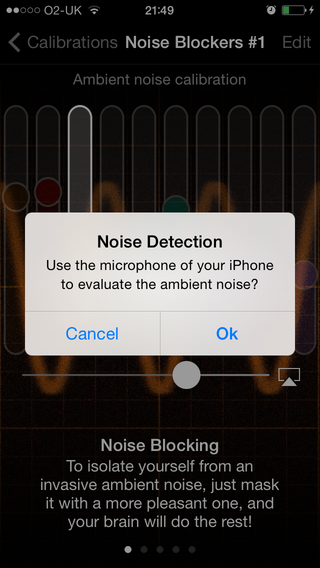 ←
You can also use the microphone on your iOS device to let the myNoise app detect the ambient noise for you by tapping the 'Ambient Noise Calibration' button.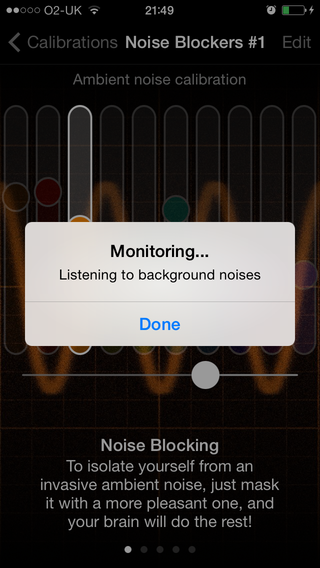 →
The myNoise app is now listening to background noise, tap 'Done' to stop listening. You might then want to tweak the sliders as the noise recorded through your microphone might have some different acoustic characteristics than what your ears are perceiving, but it is a good starting-point.
More Noises
The myNoise app lets you take Noise Generators in your pocket, without the Internet. As with the main site, our audio wizard is constantly adding new generators and enhancing existing ones, and this is where you will find them all!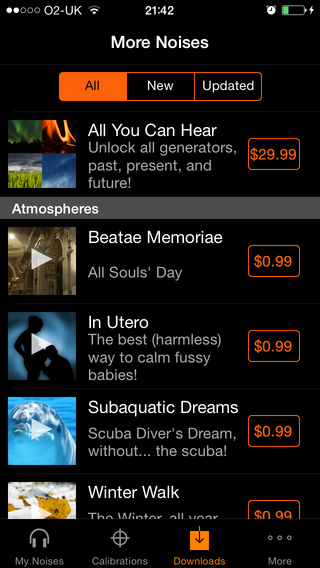 ←
Choose "All" to browse our extensive and ever-growing list of available Noise Generators, "New" if you want to see what we recently came-up with, or "Updated" for every noise we have tweaked since your last download!

Pulling down the list forces a refresh of the entire catalog.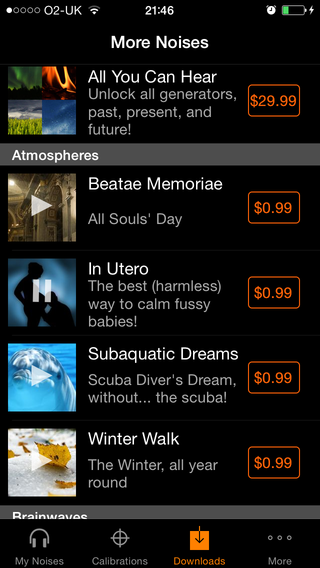 →
Try before you download or purchase! Tap the image of a noise generator, and you will be treated to a high-quality 15 seconds preview of the noise generator using its default preset.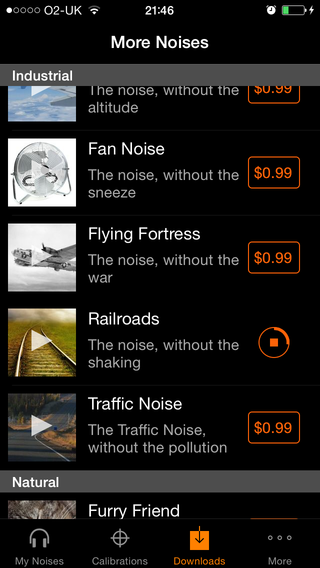 ←
Once you have found a Noise Generator you like, tap on its button to download it. You can download several generators at the same time.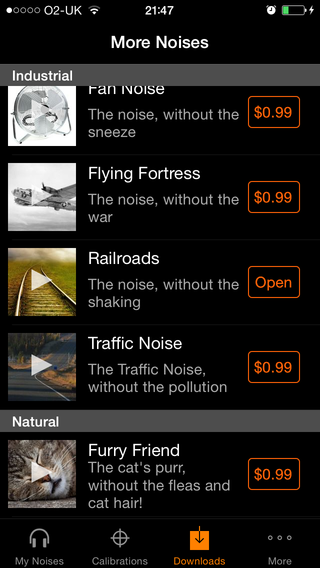 →
Congratulations, you have downloaded your first Noise Generator! Now tap [Open] and enjoy your new noise!
Settings & Under the Hood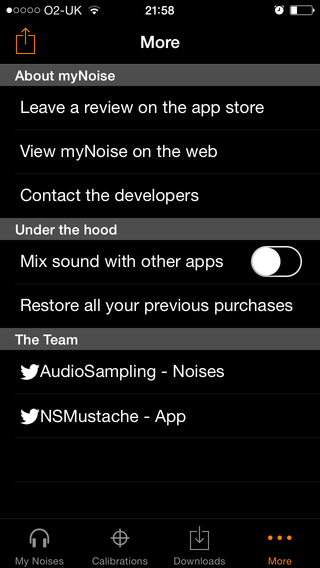 ←
Want to have a peek under the hood or get in touch with the myNoise team?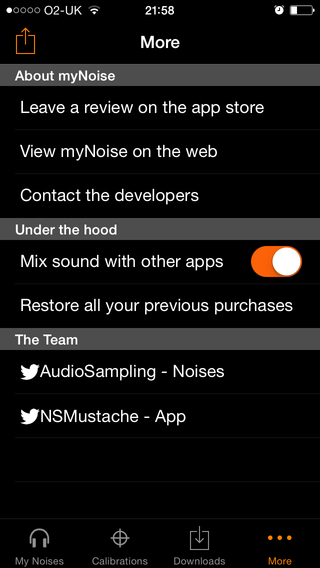 →
The myNoise App can mix its audio with other audio apps on your iOS device. To enable sound mix, go to the settings and make sure the "Mix sound with other apps" toggle is in the "On" position.

Note that when you are mixing audio with other apps, you will not be able to control the Noise Generators with your remote or lock screen controls.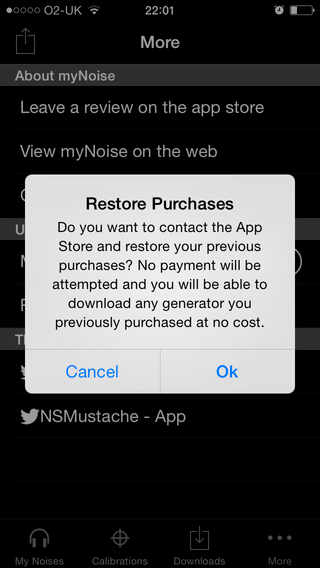 ←
Restore your previous purchases at no cost. In the settings, select the "Restore all your previous purchases" item. The myNoise App will connect to the App Store and restore all your purchases. You will then be able to download them from the Downloads screen at no cost whatsoever. Use this option when you are installing myNoise on one of your newest iOS devices.
Now go and have fun!
Make sure you download the myNoise app for free and play with it, work with it, sing along - not in the shower though - and let us know what you think about it:

. Bug - ah! - our developer or get in touch with our sound wizard and pitch - ho-hum... - your generator idea!
We'd love to hear from you, and are already busy working on new features and improvements!