Calibrated Tests versus Non-Calibrated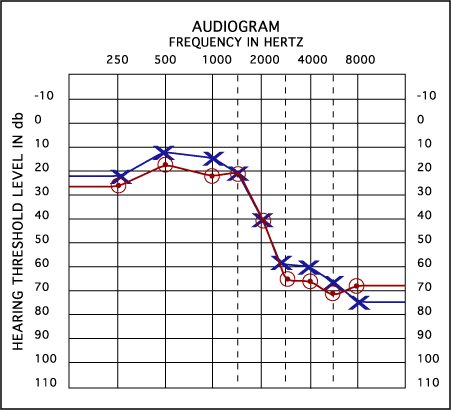 First, let's introduce an important distinction between online hearing tests: they can be calibrated or not.
Calibrated tests
offer you an indication of your
absolute hearing thresholds
. This is what your ENT measures when you are placed in an isolated cabin and asked to listen to individual test tones. Results of such a hearing test are often summarized in an audiogram, a graph showing your hearing thresholds across various frequencies such as the one depicted aside.
Until recently, it was assumed that such calibrated hearing tests were impossible to conduct online. Today, most headphones have a pretty flat frequency curve within the frequency range used in a hearing test. If headphones are now good enough to run a hearing test, yet it must be ensured that your computer and headphones are calibrated: they have to output just the right amount of 'loudness' required to run a standardized test. Specialized equipment would be needed at this stage, such as a calibrated microphone, a calibrated sound level meter... and an anechoic room! However, decent results can be obtained using a simple trick. This trick requires producing a specific sound in your room — the sound of your hands rubbing one against the other for example — then playing a similar sound through your computer and headphone, and adjusting your computer's output level to match the loudness achieved by your hands. That trick first appeared on AudioCheck.net, in 2012 and is now used by my many websites offering calibrated online hearing tests.
Non-calibrated tests are those running without a precise reference level. During these tests, you will often be asked to turn the level of your computer up until you comfortably hear the sounds used for the test. Although it could be interpreted as a way of calibrating your system, it isn't, because adjusting your computer level until you hear something by definition compensates for your hearing loss. This is the reason these tests cannot measure your hearing loss directly but will try to infer such a loss from other factors, such as having a difficulty in hearing the higher frequencies. Non-calibrated tests will usually fail when your hearing loss is attenuating all frequencies by the same amount. Therefore, successfully passing a non-calibrated test does not in itself mean that your hearing is perfect. Keep that in mind. Non-calibrated tests however can be useful to test other hearing impairments, such as speech intelligibility, especially under noisy conditions, or to test the dynamic range of your hearing.